Compass e-Learning Program
Training is an extremely important part of meeting your compliance needs. Compass IT Compliance now offers customizable e-learning programs and solutions to help meet your corporate data protection and security readiness requirements. Training delivery is developed to meet your businesses needs and offered through either hosted, online sessions as well as in a classroom environment.

Compass believes that online e-learning should motivate the student with engaging scenarios and active content. Courses are designed to ensure that the user remains engaged, is intellectually challenged, and receives timely feedback.

Compass offers training in the following areas: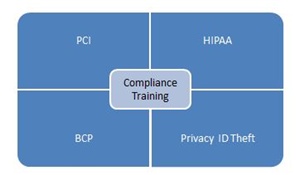 Optimizing your Training
Build a concise, targeted training program specific to your organization's needs.
Call Compass IT Compliance today to discuss your training objectives and goals at (855) 768-8480 or email info@compassitc.com.