Secure. Comply. Save.
Let Compass help you protect your enterprise against intruders.
Compass IT Compliance offers specific Security Assessment services designed to help you identify security vulnerabilities before they happen, and plan remedial actions to correct these exposures.

Our Security Assessment services help identify threats to your network security infrastructure and processes, including data vulnerabilities, hardware and software vulnerabilities, transmission vulnerabilities, configuration errors, and leakage of sensitive information.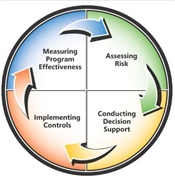 Whether you are working towards compliance with Federal, State, or Industry regulations or you are simply practicing Information Secuity best practices, such as the SANS Top 20 Critical Security Controls, our Security Assessment Services help you accomplish three main goals:
Secure - Know your risks and implement a remediation plan to mitigate those risks, helping to secure your organization

Comply - Whether it is PCI, FFIEC, HIPAA or some other regulation, our Security Assessment services are designed to help you achieve and maintain compliance not only today but tomorrow as well

Save - By building a culture of security and complying with the various regulations that organizations are faced with today, you will save time and money while meeting your objectives
Compass' Security Services Include:
Wireless Network Security

Security Architecture Review

Virtualization and Cloud Security
Look to Compass to help you gain a foothold against the constant threat of IT intrusion. For an initial no cost consultation, please call
Compass IT Compliance at (855) 768-8480