NIST Compliance Services
The National Institute of Standards and Technology (NIST) develops cybersecurity standards, guidelines, best practices, and resources to support the needs U.S. industry, federal agencies, and the wider public. NIST has released several industry agnostic cybersecurity and privacy frameworks that many organizations across all sectors comply with to protect their data and systems.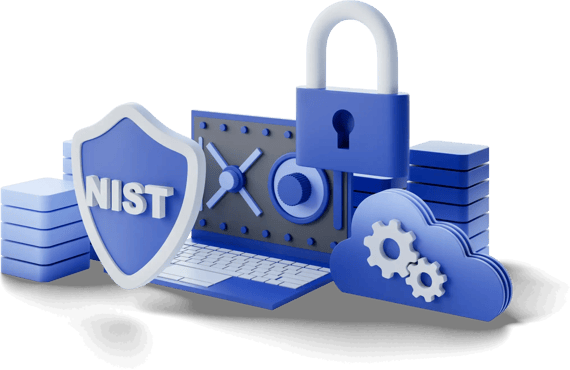 NIST Compliance and Risk Assessments Services
Compass IT Compliance offers assessment, audit, and advisory services to organizations of all sizes to ensure compliance with the following NIST frameworks:
How Does a Business Become NIST Compliant?
Every organization that chooses to achieve compliance with a NIST framework must take different steps, as each business has unique cybersecurity and regulatory needs. Compass IT Compliance offers a completely customizable suite of services to assist organizations through all stages of their NIST compliance journey:

Risk Assessments
Assess your current level of compliance with the applicable NIST framework, identify gaps in controls, and identify key work areas that your organization must address to achieve and/or maintain compliance with the framework.

Audits
Our experienced, certified IT Auditors will examine your IT controls mapped against the applicable NIST framework requirements, obtain evidence to determine if the controls are operating effectively to achieve your organization's objectives and satisfy framework requirements, and provide attestation of audit along with remediation strategies. A deeper dive assessment compared to the risk assessment, the audit will include evidence sampling.

Advisory Services
Work with your organization and tailor our project to your specific needs to address any concerns that you have related to NIST compliance, assist in the implementation and updating of policies and procedures, or assist in assessing the risk your third party providers pose related to NIST compliance.
Why Choose Compass?
Compass IT Compliance is the preferred choice for organizations, regardless of their size, seeking assistance with their NIST compliance requirements. The decision to partner with us is driven by several factors:
Expert Team: Our esteemed team comprises highly skilled and extensively certified security professionals, positioning us as the unrivaled leader in NIST compliance assessment. With their expertise, we collaborate closely with you and your team, delivering comprehensive and actionable results. These outcomes enable you to achieve complete compliance and effectively mitigate overall risks.
Streamlined Process: Our engagement commences with a meticulous alignment of expectations among all stakeholders, tailoring the project timeline to align with your specific business needs. Through a systematic approach, we diligently gather evidence, conduct thorough interviews, and promptly furnish you with detailed reports. This expedites the remediation process for any identified issues, thereby streamlining your journey towards full compliance. Our commitment to meeting the demands of your organization's stakeholders and regulators remains unwavering throughout this process.
Industries We Serve
Compass IT Compliance provides top-tier NIST compliance services tailored to meet the diverse needs of a wide array of industries. Whether you represent a federal, state, or local agency, or you are a contractor seeking to fulfill the obligations of a government contract, we are fully equipped to assist you. Our esteemed team specializes in aiding organizations across multiple sectors, offering invaluable support in implementing industry-leading best practices to effectively mitigate the risk of cybersecurity incidents. Some of the industries we proudly serve include:
Related Resources
Educational content and resources related to our NIST services:
Ready to Get Started?
Contact Us for NIST Compliance Support
Our Information Technology Auditors are experts at evaluating how organizations process, transmit, and store data and make best-practice recommendations to help ensure compliance with the most current versions of the NIST frameworks. Compass IT Compliance has the knowledge, tools and experience to tailor the right approach for your organization.
Contact us
today to learn more!